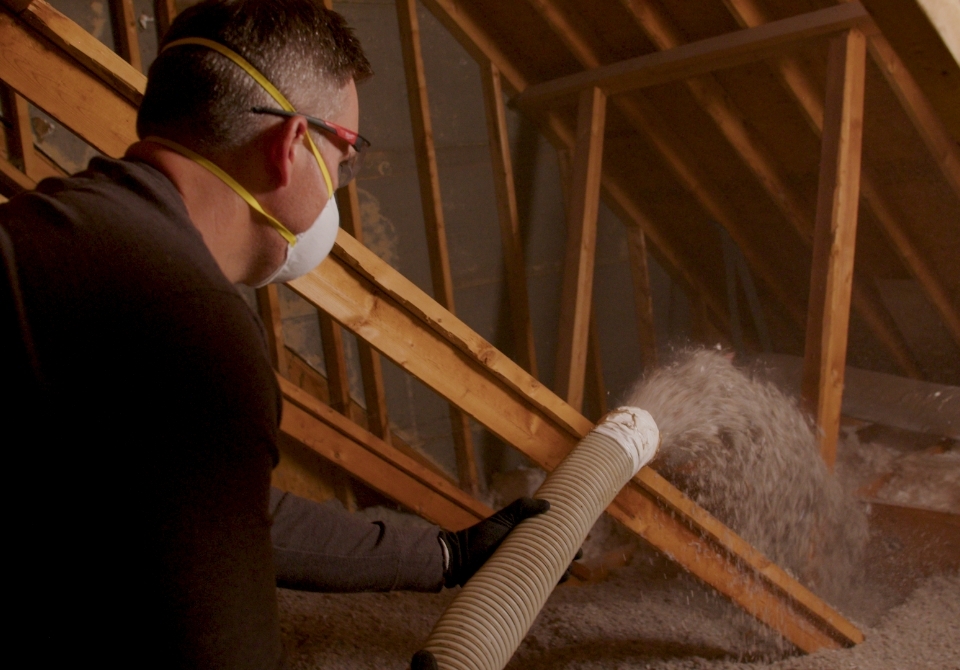 08.01.23
5 Things to Consider When Updating Your Home Insulation
Whether new, old or a retrofit, homes of all ages can benefit from an insulation upgrade to ensure year-round comfort when temperatures rise or when a frosty snap hits. If your home is underinsulated, reaching out to a professional insulation contractor who can map out a plan tailored to your home's needs is a smart course of action. Or, if you believe your home's insulation may already meet minimum requirements, a contractor can provide clear recommendations and implement ways to upgrade your existing insulation.
More than 90% of homes in the U.S. are underinsulated. But with a SANCTUARY® Trusted Installer, you can rest easy knowing that certified cellulose insulation installers have the skills and training necessary to complete your project quickly and expertly.
Prepare for your installation with a Trusted Installer by thinking through these five questions.
1. What are your home insulation goals?
Have you noticed inconsistent temperatures in your home? Is the bonus room over your garage getting hotter or colder than the rest of your home? Does an attic bedroom or office space get drafty? Are there areas in the home where soundproofing may be essential? Is your current insulation not as sustainable as you wish it could be?
These are all telltale signs that it may be time to upgrade your insulation. It's important to communicate these concerns with your Trusted Installer so they can provide you with expert guidance.
SANCTUARY® by Greenfiber is multifunctional: It can equalize temperature from room to room and across floors. It can reduce outside noises by 60%1 and keep your home warmer in the winter and cooler in the summer. When installed in exterior walls, SANCTUARY can also reduce heating and cooling costs by up to 25%2 and reduce the carbon footprint of your home.
Our Trusted Installers will help you reach your home insulation goals. They also have a direct line to Greenfiber's technical support team. This means that if you need assistance or have questions, you can rest assured that professional help is available.
2. What is your project timeline?
The amount of time it takes to install blow-in cellulose insulation varies from project to project due to the following factors:
• The size of the areas to be insulated
• The location you wish to be insulated
• Whether your old insulation needs to be removed
Typically, the larger the space, the longer the installation will take. So, it's important to discuss the project timeline with your Trusted Installer beforehand to plan accordingly and make any necessary adjustments to your daily routine.
For example, if you're having blow-in cellulose insulation installed in your entire home versus one area (such as an attic), you can expect the install to take much longer. An entire home will likely take a full day, while an attic will take a few hours. Once your Trusted Installer has assessed the area to be insulated, they'll be able to give you an accurate time estimate.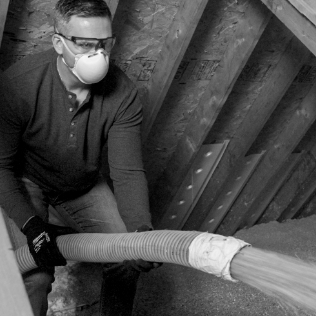 Cellulose insulation can be blown over fiberglass batts or any other types of insulation material such as rockwool, vermiculate or foam — provided the existing insulation material is not wet. Unless it is damaged, your installer will not need to remove existing insulation from an attic before blowing cellulose on top. This will reduce the hassle involved in replacing your home's insulation from scratch.
Usable in attics, walls, ceilings and floors, cellulose is a great insulation option for new home construction projects too. If you wish to install insulation in all of these areas, the project could take a full day or longer depending on the size of the areas.
No matter the location, your Trusted Installer will make sure your project is completed on time and with the highest quality.
3. Is there any preparation work?
SANCTUARY Trusted Installers will do all of the heavy lifting and a contractor will do a full assessment of the work required to the installers starting work. However, there are a few things you can do to help make the installation project proceed without a hitch.
• Ensure a clear pathway: When your installer arrives at your home to install cellulose insulation, they'll need easy access to the installation site to ensure the process goes more smoothly. Make sure the doorway is clear, and if there are any steps, remove anything that could block the installer's pathway.
• Spruce up the space: If there is furniture in the room near where cellulose insulation will be installed, move it away from the walls to ensure the furniture doesn't get damaged. If you are retrofitting walls, there may also be access to the external sidewall — trim back shrubs if they are blocking the way.
As part of the installation process, your Trusted Installer will do the following:
• Find and seal air leaks: We recommend expanding polyurethane foam to seal all accessible penetrations and top plates, such as gaps around pipes, wires, electrical boxes, fixtures, ducts and ceiling grilles. This will help prevent water vapor in the air from entering, in both attics and walls.
• Check insulation levels: Most regions recommend a minimum of an R38 in attics. Once your installer knows your target R-value, they will measure the amount of existing insulation in the attic and determine how much will need to be added by referring to the Greenfiber attic coverage chart.
• Prepare the area: Ventilation is required by code in conditioned attics for moisture control. Additionally, vent shots or baffles must be in place before installing insulation. If installing cellulose insulation in your attic, the installer will ensure that there is at least one square foot of ventilation for every 300 square feet of attic area.
4. What factors may affect project cost?
As with the project's timeline, the main factors that affect the cost of a cellulose insulation project include:
• The accessibility of the insulation location
• The number of rooms where you'd like cellulose insulation installed
• Whether your installer needs to remove any old, damaged insulation
For example, the accessibility of your home's walls, attic or crawl spaces could make installing cellulose insulation easier or more difficult as well as the type of exterior finish (wood aluminum, vinyl, asbestos shingles or brick). If certain areas are tough to reach or require extensive preparation work, such as moving furniture or removing obstacles, this may increase the labor and time required for the installation and, ultimately, the cost. The number of rooms, levels and complex architectural features may also affect the difficulty and time required for installation, potentially impacting the overall cost.
SANCTUARY Trusted Installers can help you save time and avoid expensive rework because they understand how to install cellulose insulation and have extensive experience with the product. Learn more about the advantages of partnering with a cellulose insulation installer to promote well-being and dial up comfort in your home.
5. What are your long-term home plans?
Communicate with your installer about any long-term plans, such as renovations, that may affect the insulation project. This can help the installer adjust their install approach to the project and give the best recommendations for your long-term goals.
Bonus: You can spend less on your attic sealing and insulation project by taking advantage of federal tax credits and utility rebates offered in some parts of the country. Beginning in 2023, the energy-efficient home improvement credit will be worth 30% of the total cost of eligible insulation projects up to $1,200 per year.
Have more questions? Trusted Installers have a direct line to Greenfiber's technical support team, which means if they need assistance or have questions, help is on the way. Find a Trusted Installer near you today.
1 In field testing on identical 2x4 exterior wall types, Greenfiber R-13 stabilized spray-in insulation outperformed R-15 unfaced fiberglass batts by 4 NIC rating points, which equates to a 60% reduction in sound power. See our installation instructions for full details on how to meet specifications and maximize sound reduction.
2 Savings vary. Find out why in the seller's fact sheet on R-values. Higher R-values mean greater insulating power. Energy analysis of Climate Zones 1–7 used the 2018 IECC reference home comparing an R-11 attic to DOE-recommended attic insulation by climate.