The right insulation material can do wonders by elevating buildings into spaces that not only feel great but are also more sustainable. That's why, when it came to designing and building a zero-energy home as part of the U.S. Department of Energy Solar Decathlon, students at Ball State University knew exactly where to start: incorporating cellulose insulation.

Located in the Near Eastside neighborhood of Indianapolis, the build concept — Alley House — was designed to be beautiful, comfortable and environmentally responsible, providing a glimpse into the future of sustainable living. After two years of researching, designing and building the Alley House for the 2023 Solar Decathlon Build Challenge, Ball State University was named overall champion.
"It was amazing to receive the overall champion award for the 2023 Solar Decathlon Build Challenge," said Pam Harwood, professor of architecture at Ball State University. "I can't convey how truly proud and joyful the moment felt when Ball State's name was read as the winner."
Join us on a quick tour of the Alley House to see how sustainable insulation is a critical part of a net-zero home. If you're inspired and want to discuss how SANCTUARY® by Greenfiber can transform your home or building project, contact a Greenfiber sales rep.
The Solar Decathlon 2023 Build Challenge
An international competition, the U.S. Department of Energy Solar Decathlon was created to prepare the next generation of building professionals to design and build high-performance, low-carbon buildings powered by renewable energy. Participating students work during a two-year period to design, build and operate a house in their region. These students obtain hands-on experience with using clean energy technologies and learn how they can be applied to homes across the country.
Since 2002, the Solar Decathlon has established a worldwide reputation as a successful educational program and workforce development opportunity, involving more than 40 countries within the past 21 years. The Design Challenge is a one- to two-semester, design-only competition, while the Build Challenge is a two-year design-build competition. Both are an opportunity to help take buildings to the next level through a variety of advancements, including reducing embodied and operational carbon emissions.
Project participants from Ball State include interdisciplinary teams of undergraduate and graduate students from all four departments of the university's R. Wayne Estopinal College of Architecture and Planning: Architecture, Landscape Architecture, Urban Planning, and Construction Management and Interior Design. For the 2023 Build Challenge, the 15 finalist teams, including Ball State University's Cardinal Studio team, represented 18 collegiate institutions spanning three countries.
The Alley House Sustainable Design Proposal
The design proposal for the Solar Decathlon integrated sustainable sites criteria and passive house principles, showcasing energy efficiency as well as a safe, functional and healthy home to sustain two families. Cardinal Studio was determined to create a design that could address the occupants' needs while providing optimal comfort and adaptability.
The proposal puts forth the following goals:
1. Complementing Family Life Cycle
2. Enhancing Sense of Place
3. Facilitating Educational Opportunities
4. Creating Resilient Building Design
5. Fostering Equity
6. Creating a Sustainable Site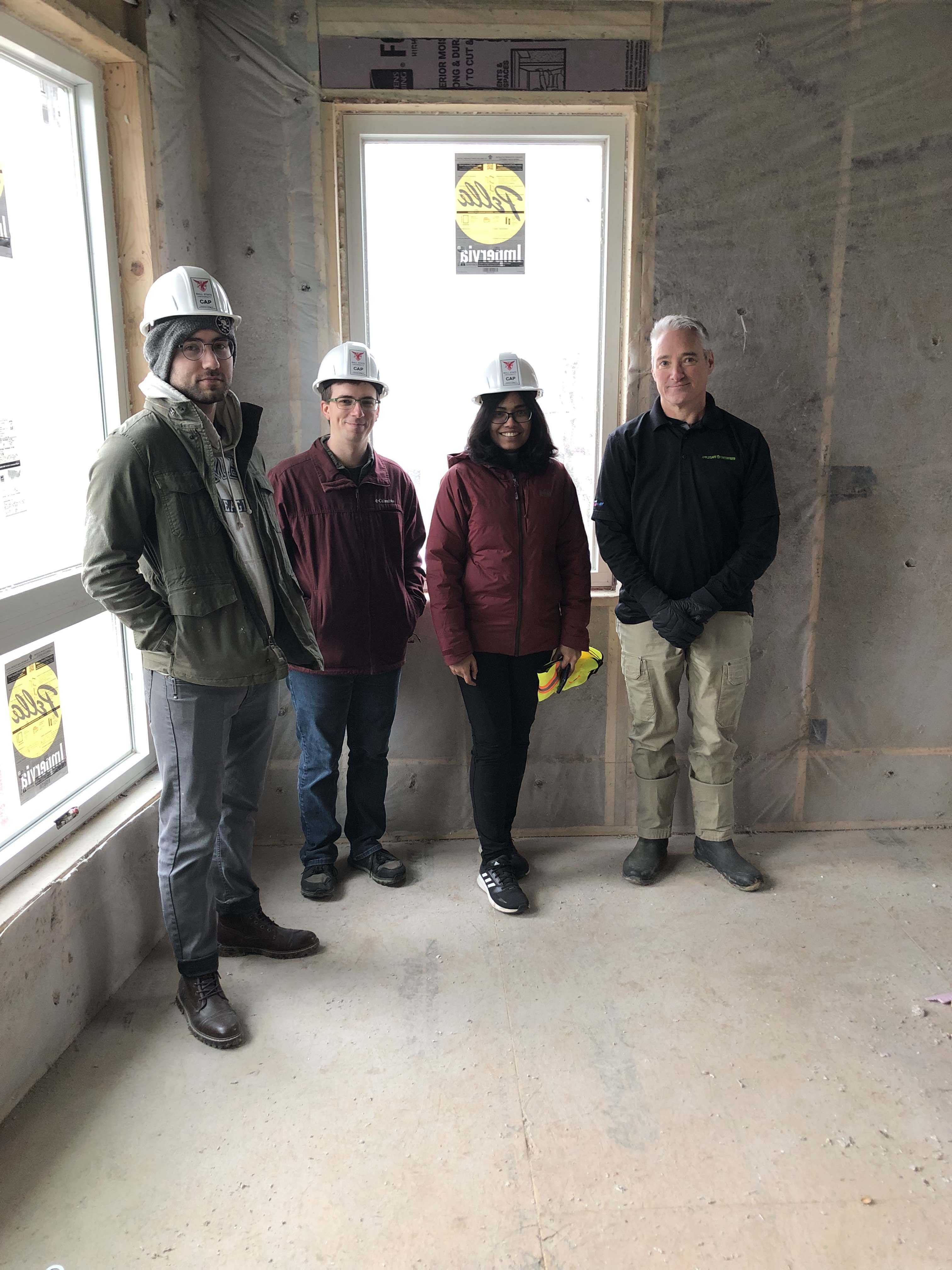 Cellulose insulation played a critical role in the success of the Alley House, and its performance will deliver impressive results for years to come. For example, cellulose used to insulate the walls will help equalize the home's temperatures from room to room and reduce sound power by up to 60%1, creating a comfortable haven for the occupants of the new net-zero home.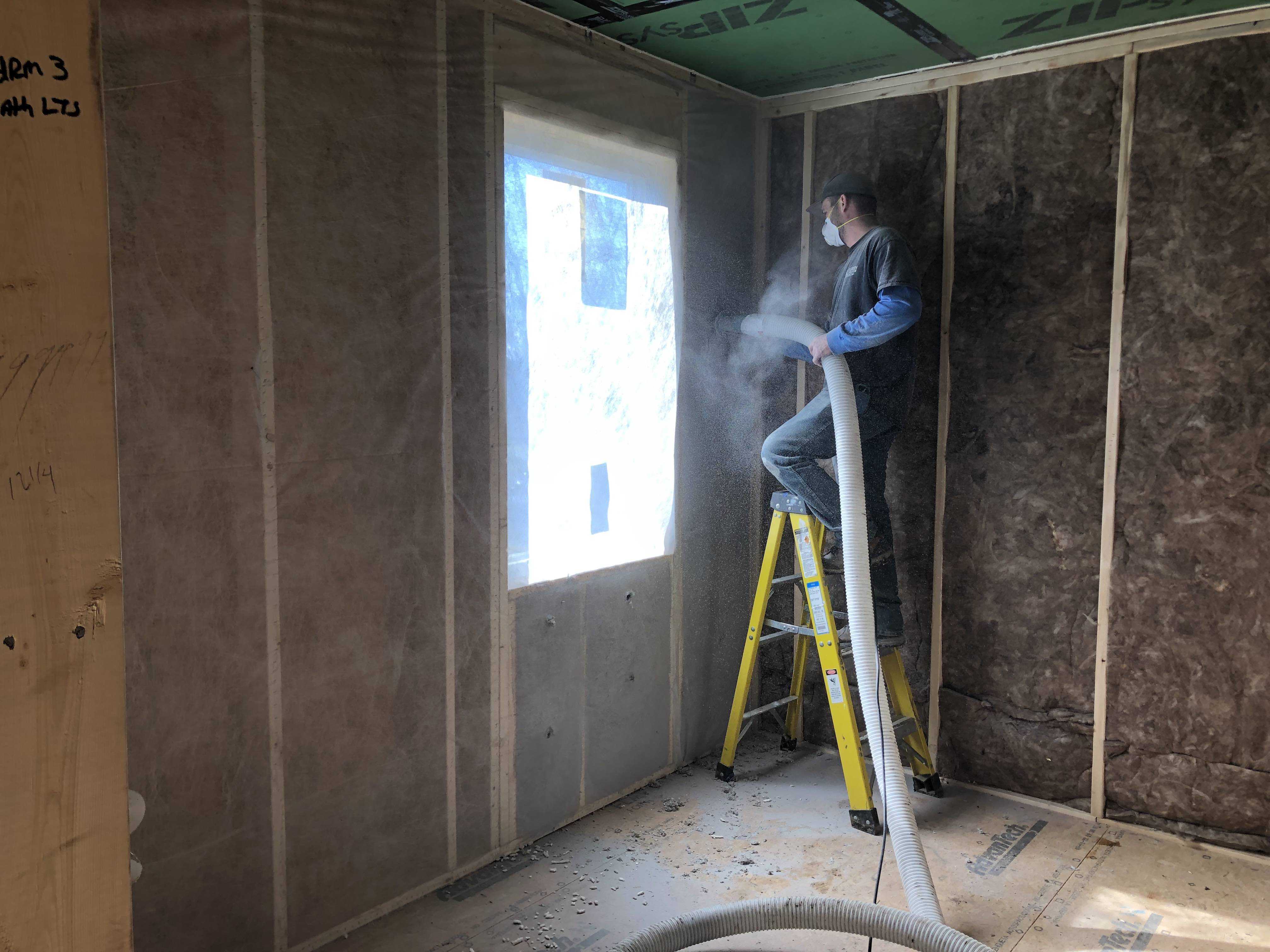 This Net-Zero Home's Sustainability Principles Strike a Winning Combination
Ball State's College of Architecture and Planning students and faculty were named the 2023 Build Challenge overall winner during the international U.S. Department of Energy Solar Decathlon 2023 Build Competition. The build team also won six area-specific awards in:
• Integrated design
• Occupant experience
• Energy performance
• Architecture
• Market analysis
• Presentation
"The competition was intense, and we did not know how we did until the final moments of the award announcements," Harwood said. "We edged out Indian Institute of Technology Bombay school of Ph.D., master's and undergraduate students by only 1.4 points out of 1,000."
The cumulative environmental impact of all processes over the course of the home life cycle was assessed as part of the evaluation. Processes considered included:
• Extraction of raw materials
• Production and manufacturing processes
• Shipping
• Construction
• Operation
• End of life
The home's capability to deliver intended comfort and indoor environmental quality were also assessed. To provide a healthy indoor environment, the design had to include a comprehensive approach to indoor air quality that incorporates:

• Ventilation
• Filtration
• Dilution
• Material selection strategies
Ball State University chose SANCTUARY by Greenfiber for their net-zero home build because it:
• Is made with 85% recycled paper
• Has the lowest embodied carbon of any major insulation
• Locks in carbon for the life of the home, up to 1.34 tons of carbon
• Utilizes electric manufacturing and short-haul transportation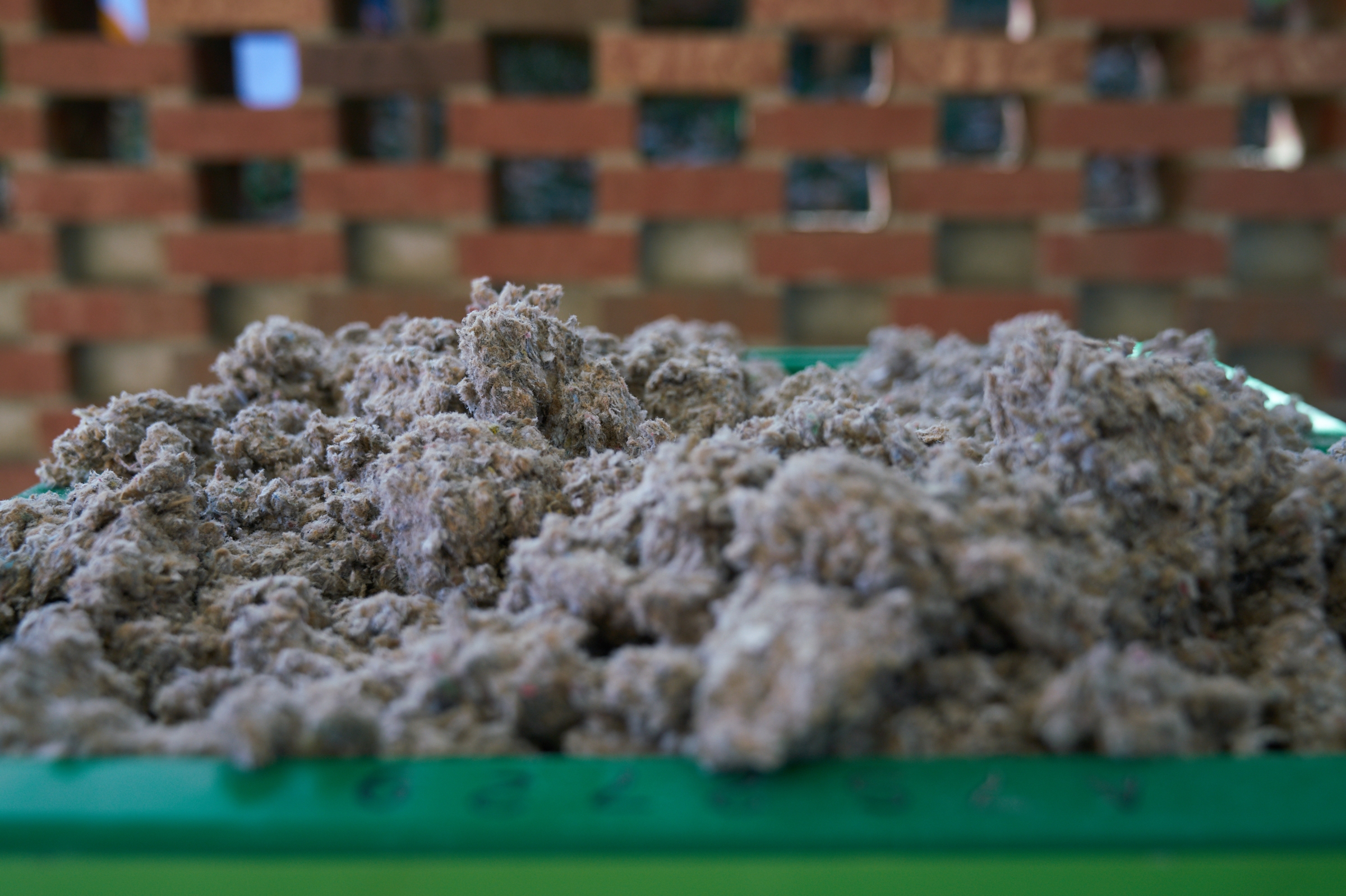 Benefits of Using Greenfiber Insulation for Net-Zero Homes
Net-zero homes reduce the use of fossil fuels and the release of carbon dioxide — and cellulose insulation does the same. Made with 85% recycled material that's free from unhealthy substances such as formaldehyde and asbestos, cellulose insulation prevents the production of greenhouse gasses and lowers carbon emissions through the recycling of waste paper. Rather than returning to the atmosphere as carbon dioxide when the paper is burned or decomposes, cellulose insulation allows for long-term storage of carbon in the structure of the home.
Cellulose insulation is a superior building material for long-term environmental sustainability: Other types of insulation require carbon-intensive processes and raw material sources such as refined oil, long-haul transportation and high levels of volatile organic compounds and carbon emissions. With carbon-neutral manufacturing, negative embodied carbon and no toxic emissions, SANCTUARY is a suitable choice for building high-performance net-zero homes.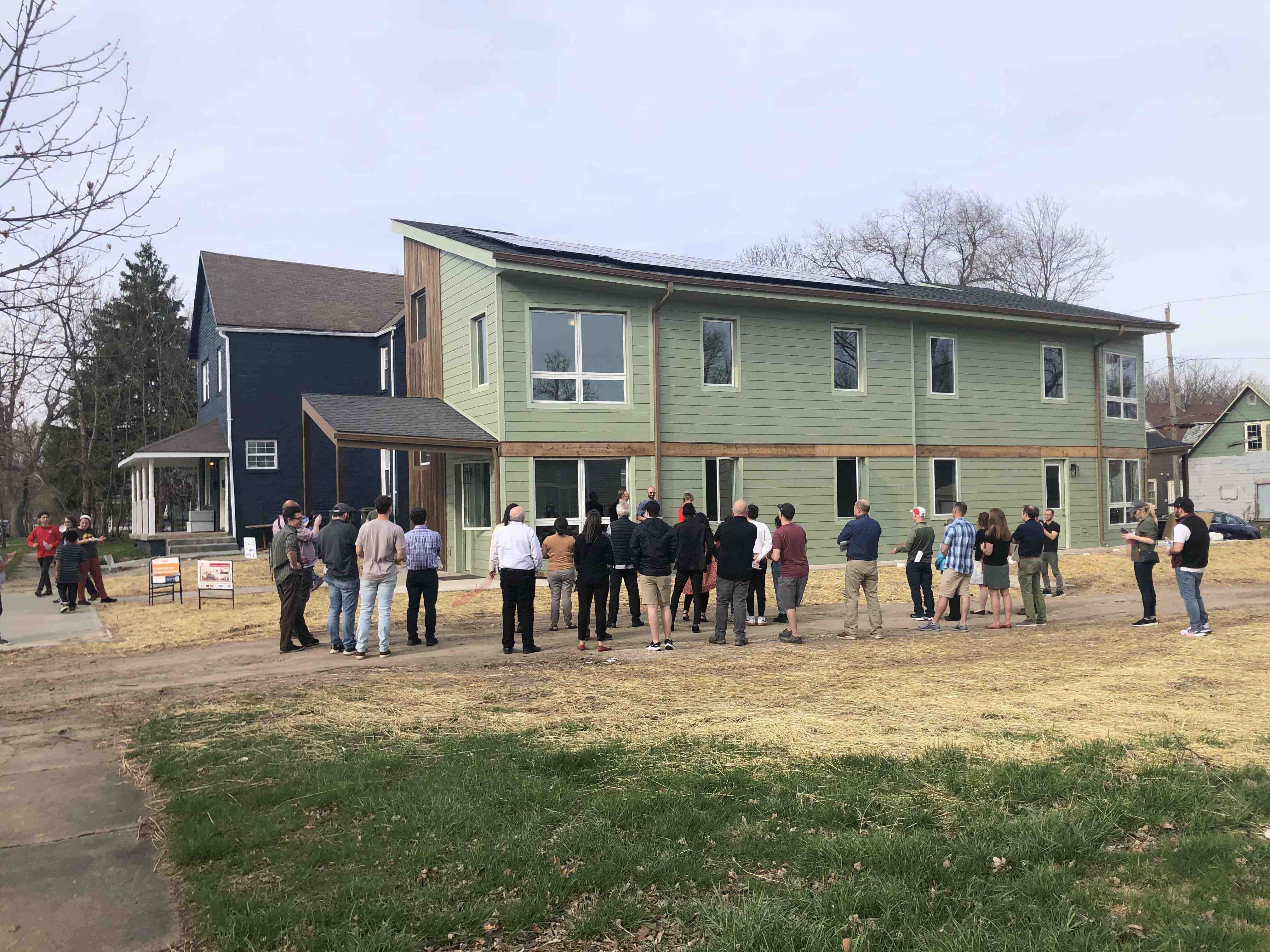 And, after all is said and done, installing cellulose insulation reduces energy consumption, dampens sound that can pass through walls and naturally regulates the temperature of the home. These benefits not only make a home a more comfortable place to be, but they also help reduce the home's environmental impact over time. Whether you're a contractor, DIYer or a building professional in the making, you can specify cellulose insulation with confidence.
Need more inspiration? See how SANCTUARY was incorporated in a net-zero in-law suite in Maryland.
1. In-field testing on identical 2x4 exterior wall types Greenfiber R-13 Stabilized Spray-In Insulation outperforms R-15 unfaced fiberglass batts by 4 NIC rating points, which equates to a 60% reduction in sound power. See our installation instructions for full details on how to meet specifications and maximize sound reduction.
2. Comparison based on an R-30 value at one square foot coverage area. This comparison includes the production and energy used in the insulation manufacturing process. Based on Sustainability Impact Index – Prepared by Principal Partners.