From new construction to retrofits and remodels, eco-friendly design and construction practices are taking the building industry by storm. While sustainable building has come a long way — especially with the option of cellulose insulation — growing concerns over climate change have made the need to reduce emissions of greenhouse gasses such as carbon more pressing than ever. But carbon-neutral construction and net-zero homes come down to more than the eye can see.
Cellulose insulation is one of the most effective ways to reduce a structure's long-term carbon footprint. Manufactured with recycled plant fibers, SANCTUARY® by Greenfiber blow-in and spray-applied insulation products are designed to keep carbon locked in for the life of a home's structure. This makes SANCTUARY insulation a viable choice for building professionals around the globe.
Need a sustainable insulation solution to level up your carbon reduction strategy? Here's what you should know.
The Difference Between Embodied and Operational Carbon
Embodied carbon is the amount of greenhouse gasses emitted during the construction of a building. This can include carbon emitted from manufacturing, transportation, installation and disposal of building materials.
In contrast, operational carbon refers to the amount of carbon present once the building is complete and can include heating and cooling systems, lighting, water and other infrastructure.
Building Trends and Regulations Moving Toward Net-Zero Carbon Emissions
As energy efficiency standards continue to evolve in the United States, much attention has fallen on improving greenhouse gas reduction in the home and building sector, with some long-term goals already in effect. For example:
- By 2030, the United States aims to reduce net greenhouse gas emissions by 50% to 52% below 2005 levels.
- The country is working toward a fully carbon-neutral energy economy by 2050.
On a larger scale, global organizations focused on limiting and preventing greenhouse gas emissions, such as the Intergovernmental Panel on Climate Change and the Paris Agreement, believe these next few years are critical. With a goal to elevate countries' national efforts over time, they are encouraging industries to make wise decisions when it comes to selecting building materials.
Today, a number of North American cities and states have passed laws and issued directives to reduce greenhouse gas emissions from all sectors, with many of these efforts focused on reducing emissions from the construction and operation of buildings.
To achieve these goals, it's crucial for building professionals to specify and use quality, energy-efficient materials from the beginning. Switching to materials that have low embodied energy such as Greenfiber® cellulose insulation can help a building go from carbon positive to carbon negative.
For example, when Austin-based residential home firm Elev8 Builders was looking for innovative solutions to deliver better-performing homes, they turned to SANCTUARY insulation to help get the job done. With Greenfiber cellulose, their builders and architects have the materials they need to provide comfortable homes that can consistently achieve net-zero energy consumption.
Tackle Embodied Carbon with Greenfiber Cellulose
Building materials — including insulation — and construction make up 11% of all global carbon dioxide emissions. The embodied carbon from this segment can account for half of the total carbon footprint over the life of the building.
For building professionals, this means attaining future sustainability goals will require less carbon-intensive materials. Fortunately, that's where products such as cellulose come in — and the numbers speak for themselves.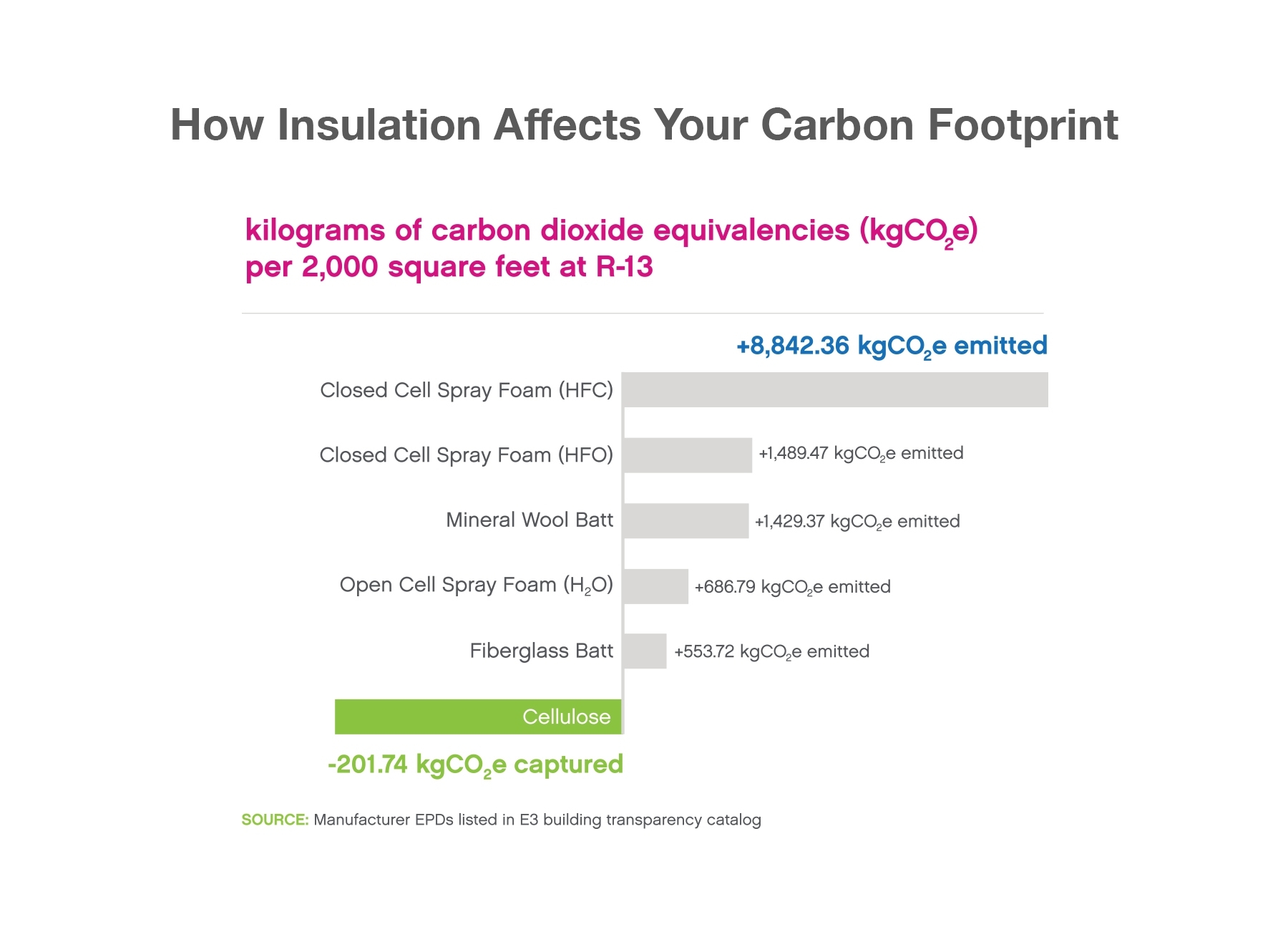 Environmental product declarations make it simple to identify and specify insulation materials that meet the standards of a sustainable building material. The documents provide detailed information about a product's impact on the environment, such as global warming potential, energy use, resource depletion and emissions.
Using insights from EDPs, a recent Green Building Advisor study shows that carbon-containing insulation materials, such as cellulose, reign supreme when it comes to reducing carbon emissions. Consider the study's summary of the GWP and R-values for commonly used construction materials. Due to low energy intensity to manufacture and its ability to lock in carbon versus releasing carbon dioxide into the atmosphere, cellulose can have a GWP of less than zero.
When it comes to choosing insulation products, it's important to consider the overall design and carbon impact of the building. Cellulose is the only insulation material that reduces global warming potential. What's more, SANCTUARY insulation is the only major insulation product that is proven to reduce global warming potential. Because it is made from recycled plant fibers, carbon is locked in for the life of the product. Couple this with low-energy manufacturing and short-haul transportation, and it's clear why SANCTUARY insulation lowers the carbon footprint of a building, sequestering carbon for its lifetime.
Need more convincing? Here are other ways Greenfiber helps prevent carbon emissions.
- If builders specify SANCTUARY insulation in their new home builds and homeowners install it in their attics or walls, we could remove 12.4 million tons of carbon dioxide from the air. [1]
- In just one year, the production of Greenfiber cellulose insulation locks in carbon that is equivalent to 157,000 acres of forest. [2]
- Greenfiber's manufacturing process is 13 times more energy efficient than fiberglass insulation. [3]
- Greenfiber diverts 277,000 tons of paper from landfills annually.
The building materials you choose make a major impact on not only the carbon footprint but also the overall embodied carbon of a building over its lifetime. Curious about the ways cellulose can help? Discover more reasons cellulose is a sustainable option.
[1] Carbon capture goal is based on insulating all under-insulated attics in the US with 65 bags of SANCTUARY (32,875 homes built before 1965), and installing SANCTUARY in the attics@ R-38 and exterior walls @ R-13 of new home builds in 2022 (13,107,000 new home starts).
[2] Based on the CIMA/CIMAC LCA for manufacturing and WWF Biogenic Carbon Footprint Calculator for Harvested Wood Products. Tree sequestration statistics are based on the EPA Greenhouse Gas Equivalencies calculator @ https://www.epa.gov/energy/greenhouse-gas-equivalencies-calculator. 3 Comparison based on an R-30 value at one square foot coverage area. This comparison includes the production and energy used in the insulation manufacturing process. Based on Sustainability Impact Index - Prepared by Principal Partners.
[3] Comparison based on an R-30 value at one square foot coverage area. This comparison includes the production and energy used in the insulation manufacturing process. Based on Sustainability Impact Index - Prepared by Principal Partners.