That depends on four things: the recommended R-value, your climate, the type of heating and cooling system you have, and the section of the house you plan to insulate. For the recommended levels of insulation, the U.S. Department of Energy publishes this map with the R-values they recommend.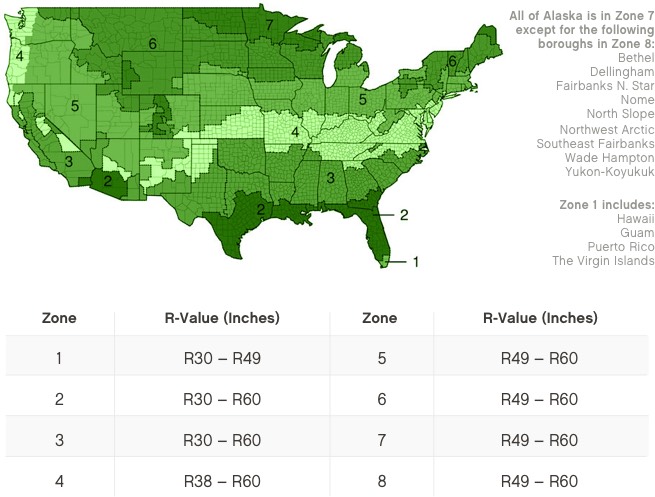 Once you know your R-value, use our blow-in insulation calculator to find out how much Greenfiber insulation you'll need. Just enter the dimensions of your space, and we'll give you an estimate of the materials required to get the job done. 

A lot of stores will let you use the machine for free with a minimum purchase of Greenfiber insulation. But even if you need to rent the machine, you won't need it for long and your whole job should still be economical.
It's made of cellulose, which is a basic part of plants (think wood pulp). Our cellulose insulation consists of up to 85% post-consumer paper fiber. It also contains additives for fire resistance, and some insulation has been treated with boric acid for protection from pest infestation and moisture. What it doesn't contain is also important: There's no formaldehyde, asbestos or fibers from textiles, fiberglass or mineral wool in Greenfiber insulation.

We have a long list of fire safety credentials: Our cellulose insulation has a Class 1 fire rating from American Society for Testing and Materials E84 testing and is permitted as a fire block. It's also manufactured to meet strict U.S. Consumer Product Safety Commission fire safety regulations, and all our products meet ASTM C739 and E84 tests.
 Plus, we have a growing list of fire resistance–rated building assemblies, of both wall and floor and ceiling types, that are listed in the UL certification database. All our products are classified by UL and carry the UL mark on every bag. Bottom line: You're safer with Greenfiber than without it or with any other type of insulation.

Nope. Accelerated aging tests (CAN/CGSB-51.60 M-90) performed on cellulose insulation have shown that there's no noticeable degradation over time. In addition, Greenfiber offers a limited lifetime warranty, which includes the permanency of the fire-retardant treatment we use, for the life of the structure.

Where air goes, sound follows. Our sound-control quality is due to Greenfiber insulation's density and its ability to fill any cavity since it's easily blown into voids and gaps that could allow for sound transmission. When dense-packed or spray-applied into exterior walls, Greenfiber can reduce sound power by 60% and is especially good at blocking airborne sound from traffic noise, airplanes, radios, televisions and conversation. 

Greenfiber insulation meets or exceeds standard industry tests (ASTM C739) for corrosion resistance, performed on steel, copper and aluminum.
You bet. Our insulation is ideal for providing additional R-value over existing attic insulation since it completely fills voids and gaps left open by other forms of insulation. It can also be installed in existing uninsulated exterior walls through various methods.

Actually, it's really easy. No kidding. There's no lifting heavy rolls up through attic openings. Plus, there's no measuring, cutting or trying to fit stuff into tight nooks and crannies. You'll need just two people — one to put the insulation in the blowing machine and another to blow the insulation to the desired thickness, which is easily measured by attic rulers. It can also be installed in existing uninsulated exterior walls through various methods, such as the two-hole installation method and the tube method.

Ready to get started? View our DIY installation guide. 
It will settle in attics until it reaches a stable density, as will other types of blown insulation. Coverage charts have already taken this into account, so it's nothing to worry about. In sidewalls, Greenfiber will not settle when properly installed.

Yes, it's safe. Greenfiber is itch-free to the touch, and it doesn't have any glass fiber that can cause irritation when you're handling it. In compliance with Material Safety Data Sheet standards, Greenfiber produces dust classified as "nuisance" which is present only during installation.

We do not recommend the use of vapor barriers with cellulose insulation, except in circumstances of exceptionally high moisture levels, such as an indoor pool facility. Particularly in the Northeast, where summers are warm and humid, a vapor barrier not only is unnecessary but also can be potentially harmful. At Greenfiber, we warrant our cellulose insulation for the life of the building when installed by an approved Greenfiber insulation contractor. 
Greenfiber insulation covers 48.8 square feet per 25-pound bag.